Headshot & Corporate Portraits
New Jersey Headshot Photographer
I'm a headshot photographer from New Jersey. Although I've been making portraits for the last 14 years, I opened up a studio located right in the heart of Downtown Caldwell, NJ. Our sister company, Electric Love Studios, is where our state-of-the-art photography studio is located. We are 10 -15 minutes away from New Jersey Transit in Montclair, so it's an easy place to get to from New York or NJ. Since our first studio in Madison opened, we have had a huge increase in portrait and headshot sessions! We're thrilled to finally have a convenient location for our clients to come to for their portrait sessions. Most people know me as a wedding photographer and didn't realize that I could also provide other areas of photography service for them! Now they know! Not to worry, If you can make it into the studio, I can come to you! I often work on location. I've photographed all types of New Jersey and New York professionals. Some examples of work that I have been commissioned for are dental office headshots, doctor and team photographs, chiropractic offices, dermatologists, auto mechanics, and their staff, personal coaches, MMA fighters, boxers, personal trainers, veterinarians, DJs, models, lawyers, therapists, and numerous CEOs of local Morris County companies.
Unique Business Headshots
We understand that you need to stand out from the crowd. After we create some multi-purpose looks, we have some space to create headshot photographs that differentiate you and your business from the rest. We will provide a variety of looks that will allow your marketing materials and imagery to pop and appeal to your potential clients.
Easy heADSHOTS with a Fast Turnaround
Our headshot sessions are easy with fast editing and turnaround times. We have a streamlined process that allows us to focus on the right looks for images that will cohesively bring your website, online presence, and brand image up to date. We typically schedule portrait sessions on Mondays and Fridays at our studio. From the time of your photo shoot to the delivery of your retouched images will take about 2 weeks. We can provide rush services for a small fee, but find our process works well for almost everyone.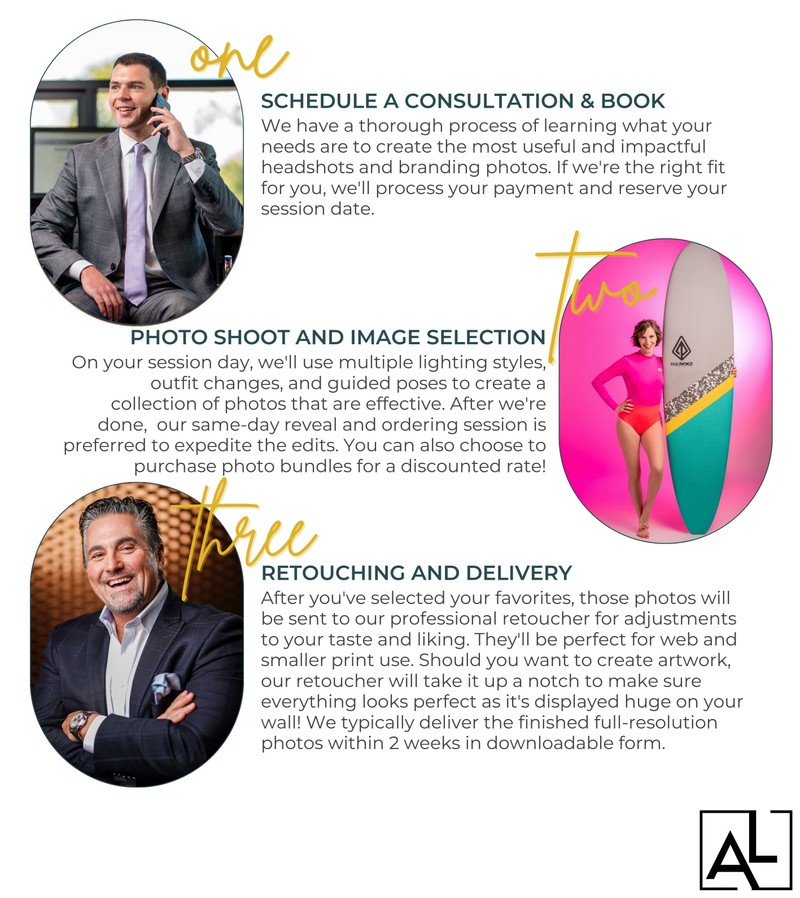 We Listen to How You Want to be Seen!
Every photograph sends a message. When you come to us with your vision and intention, our interviewing process is an efficient way to get on the same page and make a plan that will deliver the exact message you want to convey. Whether it be for an audition, interview, new website, a book, business cards, or a new online dating profile pic, we take our time to understand what is important. It's also ok if you don't know those things, we will help you!
On Location Photography
When I'm traveling to a portrait session or headshot session in New Jersey and New York, I have everything I could possibly need to accommodate practically any location. My lights are compact and portable. Depending on how much light we need and the shape I'd like to create, I will choose from either a collapsible softbox, octabox, octabank (when space allows), or perhaps some simple reflectors when we have sufficient window light. I've learned many techniques for dealing with locations that are less than favorable. Being a wedding photographer sometimes has me squished in tight spaces left to figure out how to make a beautiful portrait. Ideally, we would have a conversation prior to planning out the location. Nonetheless, I show up prepared for anything. I'll asses the location and based on the style of portrait you're looking for, I'll create the perfect on-location studio for your photographs to happen! I love the surprised look on my client's faces when I show them the back of the camera after making a portrait in the most random locations of their office.
After the Photo Session
Once we have finished your photoshoot we will preview them in 1 of two ways. For commissioned portrait sessions we will have a reveal and ordering session either immediately after the shoot or at a later scheduled date where I will display and help you go through the best photographs and choose the ones you would like to move forward with. It's at this time that you will choose the product or products you would like to purchase, pay the balance and place your order. Typically for headshots, it's a bundle of photos, but we do find some people love their headshots enough to print them as wall art! (Moms love receiving those as gifts!)
After you've completed your order, your headshot photos will be sent to our editor for standard retouching services. Should you be ordering a large print or wall art, they'll give it a little extra love to make sure it looks perfect in large scale!
Corporate photography sessions transpire a little differently. Depending on the scope of work you have hired me for, we will have predetermined your pricing and delivery during our planning consultation prior. I'll learn about the impression your company needs to convey through the photographs and any other details that are important to making accurate depictions of the brand and its style. In most cases, we will have an immediate image selection on-site with each subject. Occasionally there will be a post-design consultation with one overall decision-maker who will make the photo selections of each team member or employee. Some of the companies I've had the pleasure of working with our SHAPE Magazine, Rachael Ray Every Day, Dotdash Meredith, Men's Health, Bravo, Eating Well Magazine, Maersk, NJPCC, Sadik Dermatology, The Tie Bar, Bada Bean Coffee, and many more.
Other Professional Headshot Uses
Some other professional headshot or branding uses might be actor's comp cards, staff interactions, monthly newsletters, cardboard cutouts, brochures, book jackets, dating profiles, Facebook profiles, car wraps, updated social media profile pictures, LinkedIn photos, business branding content, commercial job sites, and so much more!
Headshots Aren't Just Basic Photos
Many people start off their inquiry by saying, "I only need a headshot", or, "It's just a headshot, no big deal." Though it may be true that you only require one really great headshot, the process by which we get to that awesome headshot is nothing basic at all. In fact, a true headshot photographer will not only be able to convey your message through a photograph, but will understand the proper and most complementary way light falls on your face, what positioning looks best for you, composition, and how to keep the process enjoyable and fun. I take many headshots in New York and New Jersey. One thing is clear, there isn't a template that is one size fits all. The process involves tweaking and sometimes I even totally change the lighting or background for a different feel.
Branding Videos for Social Media
Some clients are looking for branding videos and content for both social media and their websites. Melissa, films and produces amazing video highlights for small businesses as well as website introductions, behind-the-scenes, office tours, real estate tours, and speaking events. You only have a short amount of time to retain your viewer's attention, so it's crucial to have an effective, succinct message.
CONTACT US BELOW TO SET UP A CONSULTATION CALL